Here's the populated front panel. It is just for show at this point.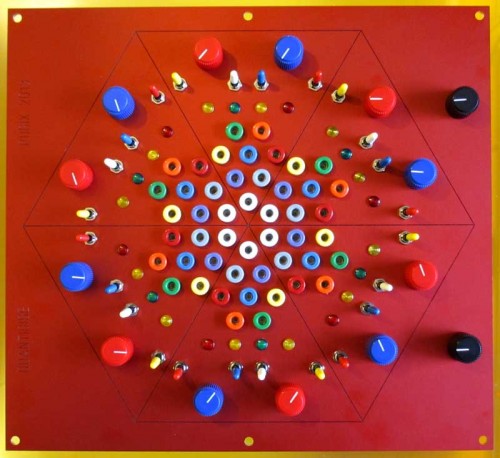 A view from the back.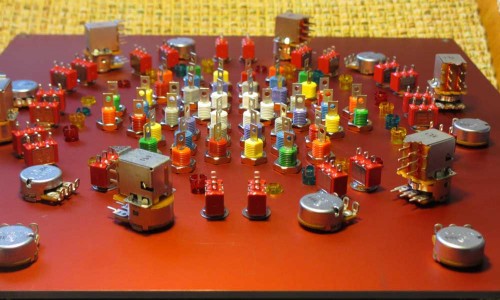 And the final block diagram for one of the six sections.  It has the old spelling, 'Quantasise'.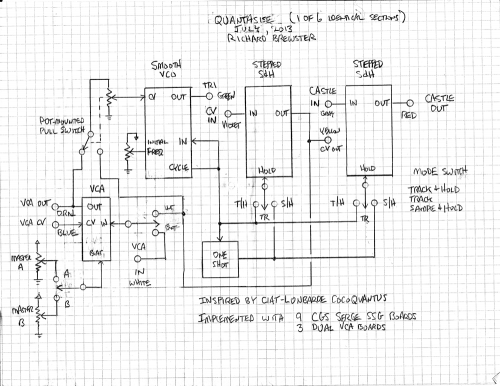 The differences from the previous diagram are the added external VCA input with switch and the added switch selecting one of two global pots — or neither — for the VCA initial level.  These pots, with black knobs, correspond to the Chaos pot on the Cocoquantus that controls the depth of cross modulation for all sections.   A jack for the output of the stepped S&H was added, too.  The VCA can be switched into the CV path for dynamic depth of FM, or it can be used independently.  The external VCA input also provides a second pathway for FM, besides going through the S&H.  The selection of this path is a pull switch on the CV attenuator pot.  The two CV routing switches enhance control during live performance.
Not shown on the diagram are the 4 colored LEDs.  Each one monitors the nearby output with the matching jack color.  I'm using Ken Stone's CGSLD PC boards for the drivers, as most of the voltage in Quantisise falls into the positive range.