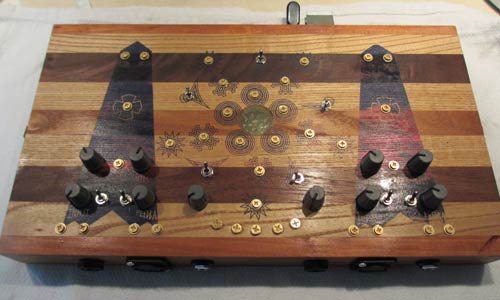 The FM mod for Cocoquantus is done by adding five input screws, each wired to a ready-to-wire CV input pad on one of the quantussy oscillators.  I arranged the screws in an arc, following a photo I saw.  There is plenty of room, but be careful with placement to clear everything below deck.  The left-most screw on mine comes very close to the nearby input jack.  It's a simple mod for anyone with soldering experience.  The new CV input is sensitive and sweeps the oscillator over a very wide range when patched directly to one of the triangle wave outputs.  Sometimes I patch in a potentiometer with alligator clips to attenuate the CV.
I could not find an exact match for the screws at two local hardware stores.  The originals must be #4 brass wood screws, 3/4″ in length.  The stores only had shorter #4s.  The 3/4″ length ones were #6, so that's what I used.  I managed to fit #4 flat washers under them.
White wires run from the screws to pads surrounded by white squares.  The pads are easily identifiable, since these are the only ones inside a white square.  Two of these are visible in the photo.